Cascade Subdivision - N - Mark Lestico
From LdsigWiki
Mark has begun a new layout effort. You may view it at:
http://www.macrodyn.com/ldsig/wiki/index.php?title=The_Port_of_Long_Beach_Subdivision_-_HO_-_Mark_Lestico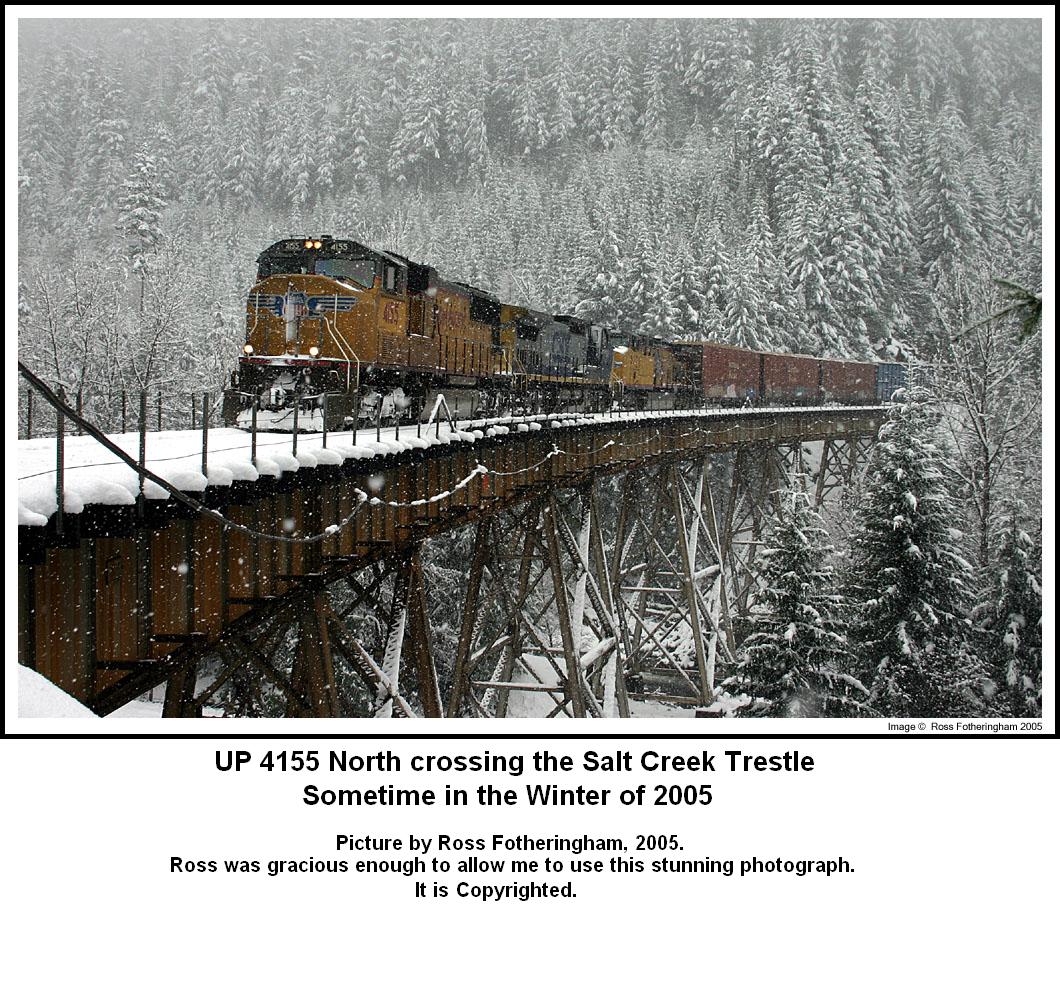 Ross' photography can be viewed at: http://www.pbase.com/trackside_photography/railroading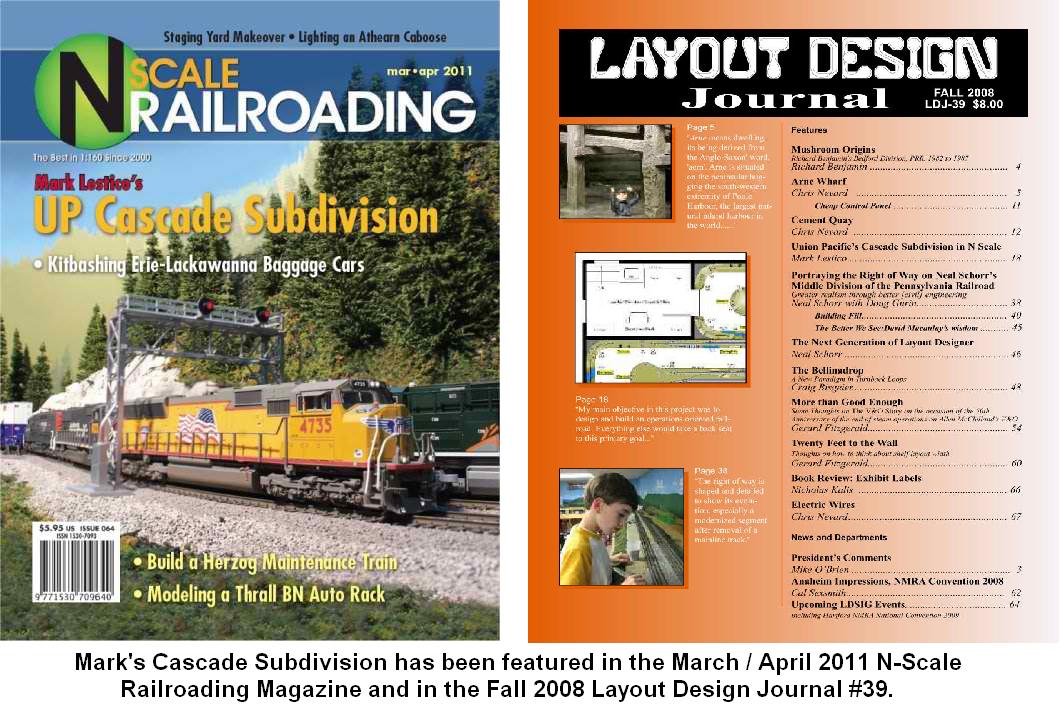 Greetings!
Greetings everyone,
Thank you Joe for prompting me to post this. (You're welcome! -joef) As of May 31st, 2014 we surpassed 113,000 hits on this page. Never in my wildest dreams would I have imagined the popularity of this website nor of the content therein. I truly appreciate everyone's interest in this effort and your enthusiasm gives me encouragement to continue in the construction of this "Lifetime" layout.
Changes This article has been in a constant state of change since it's inception sometime in November of 2006. I delete some content from time to time to make room for newer stuff. I try and leave things that tend to support concepts & ideas. I not only do this with pictures but also try and refine the dialog as well. Check back frequently so you don't miss things you may have been interested in! There is no set pattern to my editing. I just do it when I have the time. It tends to be around every other month.
Purpose My goal when starting this article was to share my experiences with those who are interested and maybe give some ideas to those that are looking for something different. I have used many ideas from several famous charachters in this greatest of hobbies. I have also used some of my own ideas that are a bit removed from the mainstream: Two examples of this would be my 12" deep scenes throughout the layout and using commercial boltless steel shelving for the benchwork.
Speed Based on my previous experiences in constructing layouts, I knew that a layout project of this magnitude would require a massive amount of time to get it up and running, let alone 'finish' it. (are they ever really finished?) I also knew that the bulk of construction would be done by me, myself and I. This was not to be a club effort and my operators all have their own layouts to build. Because of this fact, every design decision I made was geared towards speed and accuracy. (I detest having to do something twice.) The 12" wide layout sections, or 'Dominoes', meant that scenery construction would go quickly. The Modular contruction of the Dominoes meant that the components could be mass produced and assembled using 'production line' techniques. Using a pneumatic nail gun and carpenters glue instead of screws. Using boltless steel shelving for the benchwork. Using snap-together flooring. Using a lazer level to align the benchwork. All of these ideas helped me get the layout to a high level of finish for the 2008 NMRA Convention in Anaheim in just 1 Year and 8 Months time.
Why Oregon? Why would someone in Whittier California be interested in Oregons' Cascade Sub? I was born and raised in Springfield, Oregon. I watched the Southern Pacific move tonnage over "the hill" as a teenager and that hook was set mighty deep indeed! I prefer the lush, dense evergreen forests of the Willamette Pass to the hard concrete environment of Southern California when it comes to layout scenery. Thus, the N-Scale Cascade Subdivision was begun!
Content The following article contains some basic facts about the layout, some fabulous links to other sites about the Cascade Subdivision, a track plan, train room preparation, benchwork planning and construction, track planning and some basic beginning formulas and notes on module or "domino" construction. There are also some discussions on orientation issues and 'railroad direction', grades, aisles and fascia color. The "photo album" is at the end.
Joe Fugate was kind enough to create a table of contents (above) with links to each section. Simply click on a section and you are there! (or you can just scroll down.)
Enjoy.....
Facts about the plan
Prototype: Modern UP (Old SP) over the Oregon Cascades from Eugene to Klamath Falls. (The entire Cascade Subdivision.)This stretch of rail is the longest continuous grade on the Union Pacific System (It held that title with Southern Pacific as well). It replaced the famous Siskiyou Route ( Joe Fugate's layout) as the preferred link between California and the Pacific Northwest. The grade and total curvature was less severe thereby relegating the Siskiyou route to branchline status overnight once the route was completed in 1926.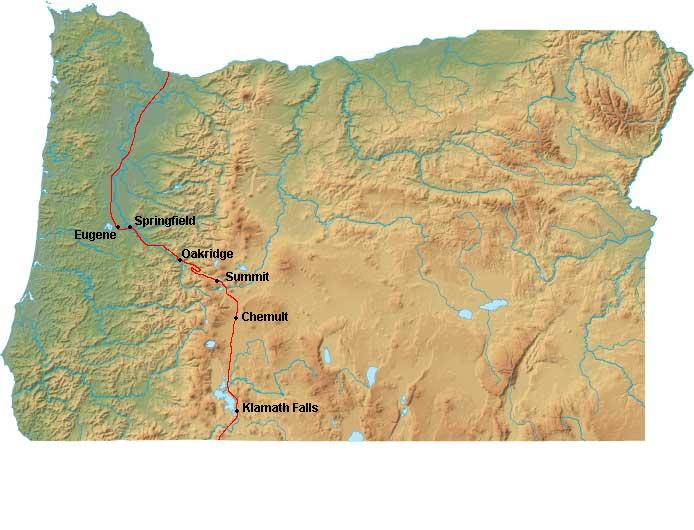 Era: I Plan on approaching the era subject as Eric Brooman, Bruce Carpenter and others have done. I will be modeling the line as it stands today in U.P. hands. (Even though I am an S.P. guy at heart.) Equipment will be updated to reflect current practices as time goes on, or I run out of capital, one of the two! ;-)
Overall Size of room: 29' x 17' or 493 square feet.
Scale: N-Scale (1:160)
Mainline length: 175' or 5.3 scale miles
Roadbed: Cork over 3/4" plywood. The plywood is shaped with a router on either side of the right-of-way to look like prototype sub roadbed.
Control System: CVP Easy DCC w/ 6 Radio throttles. 5 Power districts
Crew size: 5 to 9
Minimum Radius: 18" (On turn-back curves) 22" elsewhere.
Average Train Length: 12 feet (3-5 locos w/ 25-30 cars)
Staging capacity: 13 tracks @ 12+ feet each.
Track height: 55-59" off floor. (track is level, garage - floor slopes which gives you a sensation of climbing up a grade.)
Track system: Atlas Code 55
Turnout Minimum: #7 switches used exclusively.
Turnout control: Caboose industries ground throws. (Tortoise machines are used on the 3 Eugene crossovers due to space limitations from multiple tracks.)
Operational Style: Verbal track warrants (DTC) via radio dispatch.
Car forwarding system: Car Cards / waybills.
Aisle Widths: 28" wide throughout, except the Eugene Yard "bulge" aisle which is 26"
Construction method: 12" wide Modular "Dominoes" (I'm a big David Barrows fan)
Track Plan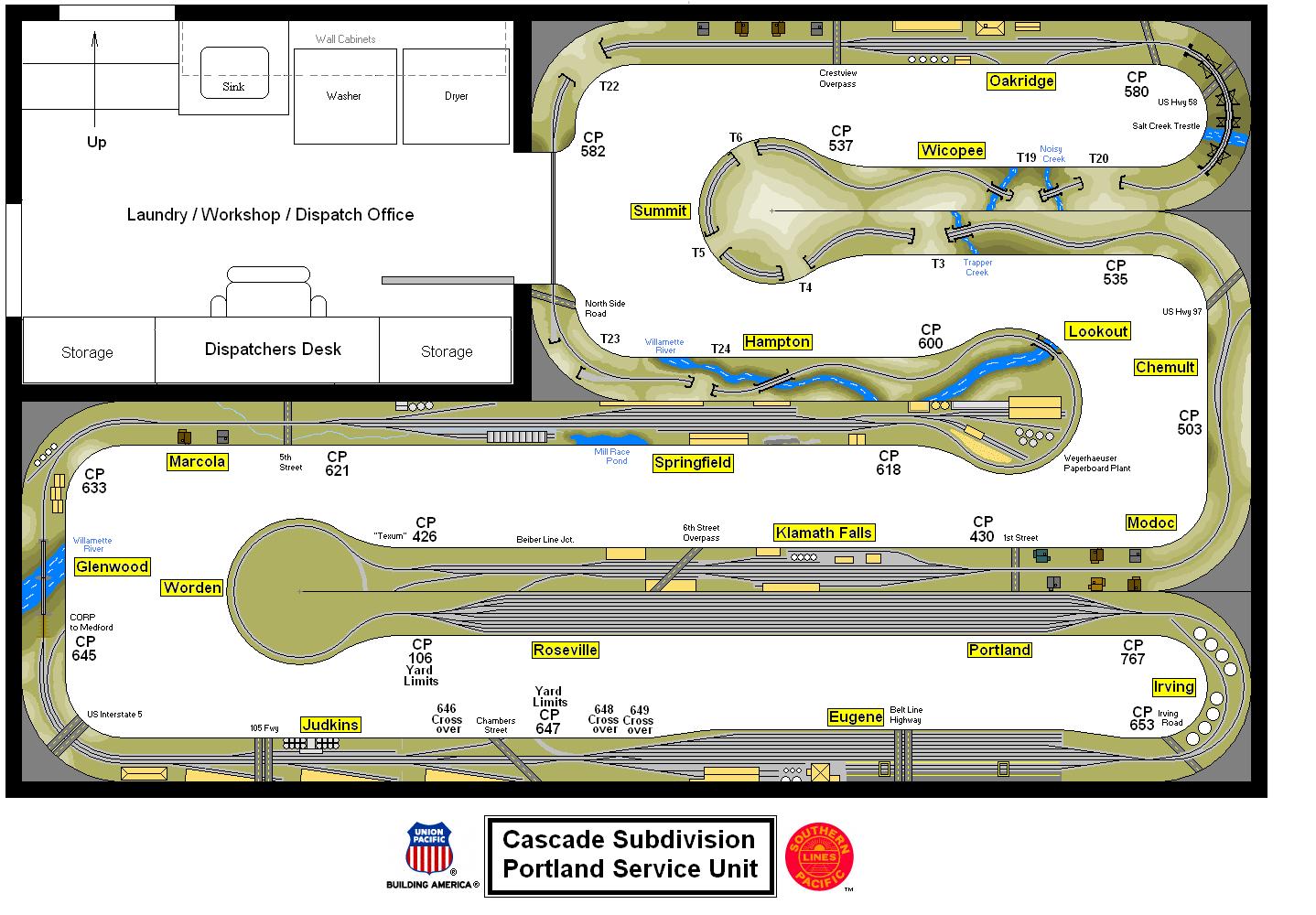 Significant places modeled on the layout: Eugene Yard, Eugene "industrial" (Judkins), Willamette river bridge in Glenwood, Springfield, Weyerhaeuser Paperboard Plant, Hampton bridge south of lookout reservoir, Oakridge, Salt Creek Trestle, Cascade Summit and Klamath Falls.
Links
For more information on the Cascade Subdivision go to:
http://spcascades.railfan.net/
and for some awesome photographs on this line go to:
http://www.railroadforums.com/forum/showthread.php?t=10726
http://www.pbase.com/kentonline/cascade_crossing
Room Preparation
Demo & Framing I spent the better part of a year gutting the entire rectangular garage space including a makeshift loft which was used for light storage. I then framed in a Laundry / workshop / dispatch space to seperate these dust producing activities from the layout room.
Storage Loft Due to the garages 29' depth it had a high roof peak. I took advantage of this high roof area by framing in a complete room that is 17' x 8' and 6'-3" tall in the middle, upstairs. This room is completely finished with a floor, drywall, electrical, etc. (When you look at the pictures below, the low ceiling area in the middle of the layout room with the recessed lighting, is actually the floor of this space. The lights are recessed into the floor joist cavities). The upstairs room is accessed via a steel pulldown attic type ladder located in the ceiling of the Dispatch Office. This loft is currently used as a place to put everything I would normally have stored in the garage space. This frees up room in the layout space for, well, TRAINS! It is large enough to be used later for pretty much anything.
Flooring The checker-board flooring is a product called Racedeck and is used by most professional racing teams in their pit areas for Indy car, Nascar and drag racing. It is impervious to oils, chemicals, etc. I bought the 18" squares to reduce assembly time. The squares simply snap together to form a solid unit. The flooring is impervious to water damage and will not mildew as it 'breathes'. The flooring eliminates the concrete dust that comes from the typical garage floor and provides an easily cleanable, resilient and comfortable environment in which to enjoy our hobby.
Insulation I must add that literally every square inch of this space was insulated with fiberglass batting. The Roof AND ceilings were done with R30 and the walls around the perimeter and the dispatch office were done with R12. The aluminum roll-up garage door was insulated using 1-1/2" thick foiled lined foam panels. The result of this effort has seemed to pay off. Temperatures in the Los Angeles basin range from about 35 to 105 degrees. The temperature in the layout room has been between 68 - 82 degrees without heating or A/C.
Air Conditioning In the summer I do use a small 110v high output portable A/C unit to keep things comfortable. The trick is to get it working in the morning before the crew comes over. It will maintain the room at about 74 - 76 degrees with all the lights on and 8 operators in the room.
Finishing up Every surface was then drywalled and painted to give the entire space an inviting, attractive and dust free environment. Was all of this time, effort and investment worth it? I can work in this space at any time of the year. The track work will not suffer from massive temperature fluctuations. My scenery and trackwork will not be inundated with dust and dirt. My feet do not get tired of standing on a bare concrete floor. It is just plain comfortable to be in this space. Was it worth it? Oh yes.
"Reality Check" Math
I wanted to come up with a quick way to figure out how many 'Layout Design Elements' (LDE's) I could fit in this space before getting too carried away with the plan. An 'LDE' for me would be defined as a place on the layout with, at minimum, a passing siding. I did not want a train to be in two 'LDE's' at the same time as this would complicate the Dispatchers job and look somewhat unrealistic. This would dictate at least a full train length of single track mainline between each 'LDE'. I had the "given" of a 175' Mainline and a "Druther" of 12' trains. Let's do the math...
A train length siding (12')+ two turnouts, one on each end (1') + curved connecting track for clearance points (1')+ A train length of single track mainline (12') = 26' total. Thus 26' gets you a complete siding and 12' of single track Main. How many of these can I fit in 175'?
175' Mainline / 26' = 6.73 Units. Thus I could conceivably fit about 7 'Layout Design Elements' in the given space.
In the final plan, which went through 3 years of changes, I did end up with exactly seven Layout Design Elements and after several Op-Sessions it has been running extremely well. All that planning truly paid off in a big way. (Those three years were spent doing home improvement projects, like re-wiring my entire house. The planning was what I did with my down time. This was not a case of "analysis paralysis" believe me!)
Arranging the Layout Design Elements
Economy of Space The bench work was laid out first to maximize the run. I went through several versions of this bench work before I settled on the current plan. I had made a concious decision 'up front' to have narrow aisles in order to have a long run on a single level layout.
Locating the Yards Next, the longest tangent section was selected as the location for Eugene Yard. Staging was then located right next to Eugene to maximize the run over the modeled portion of the Cascade Line. Notice that Eugene Yard and Staging are both located in the 'dead end' aisle that has no through freight crews passing through it. Train crews are not permitted past Yard Limits at CP 647 and CP 106. The Yard Crew is able to perform thier duties out of the way of the other operators.
The Judkins idea Judkins also evolved from a conversation I had with my friend Paul Grayless about "Operational Planning". He had suggested that Northbound trains headed for Eugene Yard may need a place to get-out-of-the-way if things got hectic in the yard. The siding would end up where Downtown Eugene and the Amtrak Station would be located. This would get the Coast Starlight off the Main, as in the prototype, and give the Eugene Local Job a place to do its' work out of the way of through traffic. Perfect! Judkins Siding was born and is now the favorite spot to railfan on the layout. Imagine the Eugene Local switching industries on the siding, The Yard Job is working the class tracks on the lead and a through freight blasts down the middle on the Main! An exciting visual is created. Thanks Paul!
Springfield Springfield has a relatively large industrial presence and is the next major town timetable South from Eugene. The Bridge crossing the Willamette River (a key scene) between these two towns just seemed to "fit" in that area beyond the staging peninsula's "blob". It would not have worked on the "U" to the left of Eugene Yard. So... Springfield fell where it is now. The rest of the towns were a natural fit after those decisions were made. (See "Reality Check" Math above.)
The Cascade Switchbacks A perfect example of this "natural fit" is the switchbacks that occur at Salt Creek Trestle and Fields on the prototype. This arrangement fit like a glove with my short peninsula, re-creating this key element on the line "to-a-tee". My modeled version has Cacade Summit at the approximate location of where Fields would be on the prototype. This short peninsula also happens to have the highest benchwork due to the garage floor sloping. (Bonus) ;-)
The two halves Another bonus feature that happened with this arrangement is that all of the mountainous scenery fell on the smaller "half" of the layout so you are 'immersed' in the beautiful rugged beauty of the cascades in those two 'short' aisles. The relatively flat Willamette Valley and Klamath areas however are on the other half. A nice contrast.
Using a Modelers Licence If you know the prototypical layout of Eugene Yard. I "flipped" the locomotive service area to the backdrop side so the yard crew isn't reaching over huge capital investments to throw the ladder switches in the classification yard. A shirt sleeve snagging a locomotive could put a damper on things in a hurry.
Steel Benchwork Construction
Around the Walls Basic shelf type L-Brackets were used around the perimeter walls. They are screwed into the wood wall studs with 3" screws. They are spaced the traditional 16" on center.
Light Load The important thing to remember with these inexpensive shelf brackets is that the benchwork is modular and lightweight. When the modules are bolted together, end to end, there is a very modest load spread out over all of the wall brackets. Once assembled, everything becomes very solid.
Peninsulas The Peninsulas were contructed using commercial steel double rivet boltless shelving components. Wood 2x2's were bolted to the bottom of the legs and "T" nuts installed in the bases for leveling bolts which are used for height adjustment purposes.
On the Level The entire benchwork array was leveled using a Black & Decker CROSSFIRE™ Auto Laser Level in one afternoon. If you are building a layout of this size, that level was worth every dime I spent on it. Incredible accuracy and extremely easy to use are two things that come to mind. The entire rooms benchwork ended up being "pool table" level. Even if you were working with grades this gives you the 'baseline' you need to get started.
Domino Construction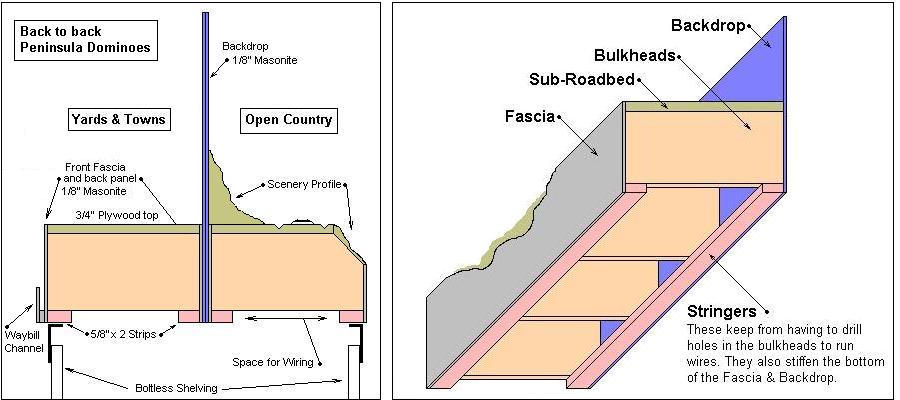 Why Dominoes? Domino construction was chosen for speed of assembly, accuracy and the ability to take them with you if you have to move. I cannot tell you how many layouts have been mercilessly torn asunder either due to the neccesity of a move or because my plans had changed. All of that work was lost into trash dumpsters. I vowed to never have to waste all of that effort again. My wife and I were joking that because we chose this method, we will never move again....
Domino Design The Dominoes are constructed using 3/4" plywood for the top, 5/8" plywood "Bulkheads" every 16 inches, 1/8" masonite fascia & Back panels, and 5/8" plywood bottom "Stringers" to tie the bottom of the bulkheads together and create a channel for the wiring to pass through. This was done so I don't have to drill holes through every bulkhead for wiring. (Saving construction time)The stringers also reinforce the bottom of the masonite panels and provide a mounting "pad" to attach the modules to the benchwork below. The modules were assembled using wood glue and a pneumatic finish nailer for speed.
Bulkheads The modules are constructed very much like an airplane wing. They end up being light weight and very solid. The modules' bulkheads are fairly deep for several reasons:
• I prefer a tall (in this case 8") front fascia for operating diagrams, Car Card "channels", etc. (In retrospect, I should have gone to 12" deep.) • The taller the module, the stronger it becomes in the vertical plane. • The bulkheads maintain the shape of the module's structure throughout its entirety. • There is plenty of room "inside" the modules for various electronics, switch machines, etc.
Success The entire benchwork assembly was mass produced using these modular construction techniques in 11 (full) days with the occasional help of my wife April and my good friend Sean Miles. I estimate about 168 man hours total. (Dominoes only)
Various Planning Considerations
Why N-Scale? I chose to model in N-Scale because the quality of models being produced in N-scale today is, in my opinion, on par with HO scale. The level of detail and smooth running charachteristics of todays N-Scale locomotives & rolling stock are nothing like they were thirty years ago when I was a teenager.
Operationally, N-Scale is at times superior to HO because Micro-trains couplers tend to uncouple easier with a skewer or pick than Kadee couplers do in HO scale. This eliminates the need for under track magnetic uncouplers.
Modeling in N-Scale allows you to create scenery that dominates the trains. It gives you the ability to do so much more with so little space. Scale involves three dimentions: Length, height & width. You can do four times as much with N-Scale as you can with HO because, in the plan view, you are not only dealing with length, but width also. Aisles being equal, this same plan in HO scale would be 26' x 56' or 1,456 square feet instead of 493. This would be a minimum due to the 'blobs' in the plan which do not become friendly at all in HO scale.
The orientation issue. When standing in the aisle and looking at the layout you are actually on the South West side of the tracks. (See the map of Oregon above for refrence.) Timetable South (to Roseville)is always to your right. Timetable North (to Portland)is always to your left.
UP vs. SP Railroad Direction: It is my understanding that when UP bought the line in 1996 they retained the SP time table directions of East - West. This was presumably done in the name of safety as the crews working this line during the transition were assimilated SP personnel. The SP way of thinking was that "All roads lead to San Francisco". (SP headquarters) Later, in 2002 UP changed the I-5 corridor to a timetable North - South direction. Since this is the current practice, I will be using the timetable North - South directions for operating sessions.
About Grades: Someone asked me why I didn't have an actual grade in the mountainous areas. There are four main reasons why. Here they are in my own order of importance:
1.) The layout room is built in a "California Basement". AKA; Garage. Thus the floor slopes four inches from back to front. You will notice that all of the mountain trackage is on the 'garage door' (right) half of the room. This already gives you a sensation of "climbing" as the benchwork in this area is at a 'higher' elevation in relation to the operators perspective. To be specific; track height at the CORP connection at Judkins is at 55" off the floor. Track height at the Chemult hold signal North of Klamath Falls is 59".
2.) As much as I like mountain railroading, I do not like to operate on modeled grades. Too many bug-a-boos in my experience. My main focus for this layout is operations with a 5-7 man crew. I like a low-tech approach for a flawless, problem free, operating session. So far, this idea has had the desired effect: Long trains, no derailments.
3.) I wanted these modules to be as interchangable as possible in case of a future move. (Thus the "Main-down-the-middle approach.) This is my 6th layout and I am tiring of having to re-build an entire layout each and every time we move. Grades would be counter productive to this goal. (I joke with my wife April about this because we have so painstakingly accomplished this objective that we will never move again!.) ;-)
4.) "Domino" modules, for the most part, do not lend themselves to modeling grades well.
The Main Down-the-Middle approach There are many 'trains of thought' on this subject and most suggest not running paralel to the edge of the benchwork for any great length as it looks 'boring'. My personal opinion has been that if there is enough things to distract the view of the operator such as Highway overpasses, tunnels, grade crossings, cut & fills, tall structures and the like you really do not notice. This is especially true when operation is your focus. There is something to be said for a long train coming into town viewed from a distance along a tangent right-of-way that just looks 'right'. Tony Koester and David Barrows have stated that railroad rights-of-way are typically tangent affairs and this makes the town scenes look, well, like they really look on the prototype.
Fascia Color: My front fascias are painted an eggshell black. Eggshell was used instead of flat so they could be cleaned and wouldn't get marred easily. The Black fascia treatment makes the colors on top of the "stage" come alive. Your eye is not attracted to the supporting elements of the model, just the railroad itself. One gentelman commented that it was as if the railroad 'floated'. This technique is used in museum dioramas to great effect.
Curtains!: I chose "the sisters", you know Polly & Esther? Seriously, polyester was chosen because it hangs very well, doesn't collect dust, is washable and has a slight sheen, much like the eggshell finish on the fascia. It is sewn with 2" pleats every foot and are sewn with two layers to make them opaque and heavier. each 8' panel is interchangeable with the others. This was done so you don't have to remember which one goes where when you take them down for some reason. They were sewn by Margie Montes of Whittier, California and yes, she will sew yours too. Margie can be reached at [margie.montes@gmail.com]. This was not an inexpensive project, however they created an almost museum-like quality that is quite striking.
Aisle questions answered
How Wide? All of the aisles in the layout room are 28" wide. The exception to this rule (there is always one :-))is the Eugene Yard aisle. Here, it is 26" wide due to the 'pregnant' classification track modules. This aisle however will only be traversed by the yard master and what I call the Staging Boss. Road crews will have no reason to enter this aisle. Also this 26" width is only for about 7 feet and then the aisle returns to the 28" width on the South and North ends.
Stability Concerns I tried desperately to keep the aisles at 30" but the modules would have shrunk to 11" wide. I was going to settle on the 11" wide modules. However there was a stability concern with the peninsula benchwork going from 24" (2 x 12") wide down to the next smaller size of 18" wide. The steel boltless shelving I use for the peninsula benchwork has either 24" or 18" widths. At track heights reaching 58-59" and benchwork only 18" wide I felt it would be too 'wobbly', especially on the long peninsula, even if it was bolted to the floor. Besides, I am squeezing the scenes at 12" as it is. That being said, it is truly amazing what you can do in 12" in N-Scale. Joe Fugate has worked miracles with widths approaching this even in HO scale!
Meets & Passes I did provide "passing tracks" for People traffic at the ends of each peninsula and this has worked quite well. Passing in the aisles has even been quite tolerable believe it or not. One person simply moves to one side of the aisle as the other passes. I think the key to this ease is that the track height is quite high and the front fascias are so tall. Most shoulders or upper arms are sliding along this smooth surface during people "meets and passes". There are no sharp corners anywhere and the blobs at the ends of the peninsulas have elbow room beneath the fascias making these pinch points easily traversible, 1 at a time that is! ;-)
Waybill Considerations Due to the narrow aisles, traditional car card pockets were out of the question. They would protrude into an already narrow space and cause bruised elbows or get knocked off. I thought about recessing the pockets into the fascia, but then was concerned about the accessibility and visibility issues that may create.
I settled on a waybill "channel" running the entire length of a town. This has several benefits:
1.) When needing a place to sort & arrange your cards, there is a convenient place to do that.
2.) You never have to worry about bruised elbows.
3.) They are so easy to make using strips of masonite and a finish nailer.
4.) It gives a clean, neat appearance to the fascia as a whole.
Put labels on the fascia where you want the industry cards to be held. The ones I put up will hold a stack of 10 waybills. See the pictures towards the end of page 2 for an idea of what these look like.
I did put traditional card pockets made of styrene in the Yard Masters work area. These needed to hold 30 waybills each, so the channel idea would not work. There is no crew traffic in this aisle however so this was considered an acceptable alternative.
Design Summation
After all is said and done I am very happy with the results of this design so far. I have a huge mainline run in N-Scale (175') that is all on one level. I would not have had this if the aisles were substantially wider. My crew enjoys this longer run at the slight sacrifice of some aisle space. Crew meets & passes have been tolerable as road crews are kept to one person per train. The downside will be that the aisles are the sole limiting factor to the crew size being held down at 9 people or less. Everything is a compromise...
During the 3 years it took for my wife & I to work on our house and convert the California Basement (garage) into a layout room, I was using my down time to plan this railroad. I pretty much over-analysed everything, but rationalized this as okay as I could not build anything anyway. In the end, all of that planning paid off big time. I am one who dislikes having to do anything twice. Working on the track plans during this construction period allowed me the time I needed to be sure everything was just right. I discarded many well developed ideas and ended up with something I believe I will be happy with for many years to come.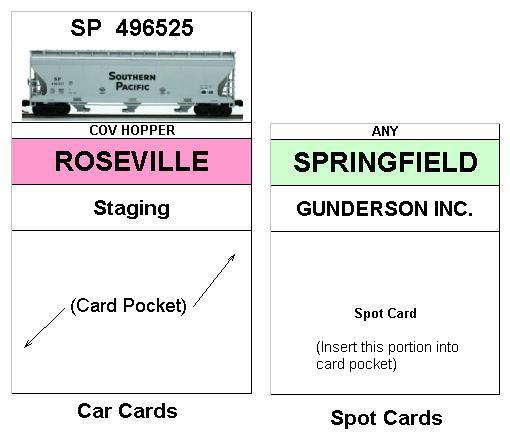 Operations
Operations are centered around the usual waybill practice. There is one spot card for every industry spot on the layout. With spot cards, you could never have more cars for an industry than there is space for on it's spur. To route a car to an industry, a spot card is inserted into the card cards' pocket.
Without getting too involved with the science behind the flow of cars in & out of industries, suffice it to say that all cars on the layout are divided into three groups; Setouts, pick-ups and holds. Car cards have either Roseville Staging or Portland Staging permanently printed on them, so if there is no spot card present, the car returns to staging.
Each "Job" has it's own color code. This is the colored band across the top of the cards. This aids the Yardmaster in the classification process in Eugene. The picture of the car is an amazing help in finding a car in a 30+ car train.
We also use a through train sequence sheet for movements between Staging & Eugene. We run 12 to 13 through trains each session (or "day") as in the prototype. 5 local way freights service the various towns. We also have two movements unique to the Cascade Line: Helpers are collected in Klamath Falls and repositioned back to Eugene using a lite power move. We also run a "Tunnel Sprayer" train from Oakridge up to Cascade Summit and back to prevent tunnel liner fires during the summer months. All trains are run as extras as on the prototype.

Track Warrants are used to control the movement of trains over the line. FRS Radios are used to communicate between crews and the dispatcher. The warrants are issued by the dispatcher and are copied by the crews. They are then read back word for word before a train is allowed to move out on the main line. Train movements are kept track of by the Dispatcher on a laminated schematic of the Subdivision using colored dry erase pens.
The Photo album
These first few bench work photos were added to this site on 13 November 2006. As you continue through the following pages, you will see a progression to more current photos. Here we go...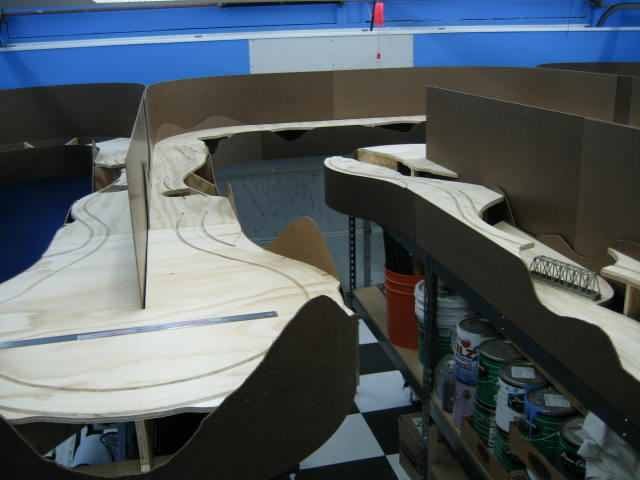 The following two photos are "birds eye" views to give everyone an over all view of things without the view blocks doing their intended jobs. From left to right we see Wicopee, Cascade Summit siding and the Hampton bridge scenes.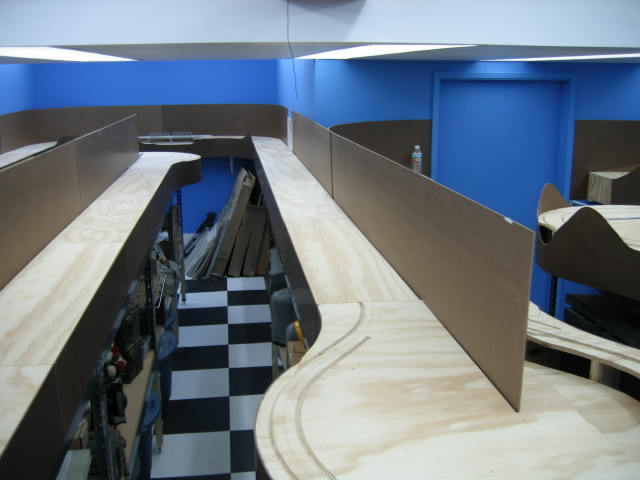 I am standing in front of the Chemult hold signal. This overview shows Klamath Falls on the Left and Springfield on the right. The Dispatchers door is to the right rear. Weyerhaeuser Paperboard mill is to your lower right. Notice how the plywood is grooved with a router to look like the ditches and sub-roadbed adjacent to main line trackage. Many modelers skip the sub-roadbed which is an important prototype feature that is used on most main line trackage throughout the country.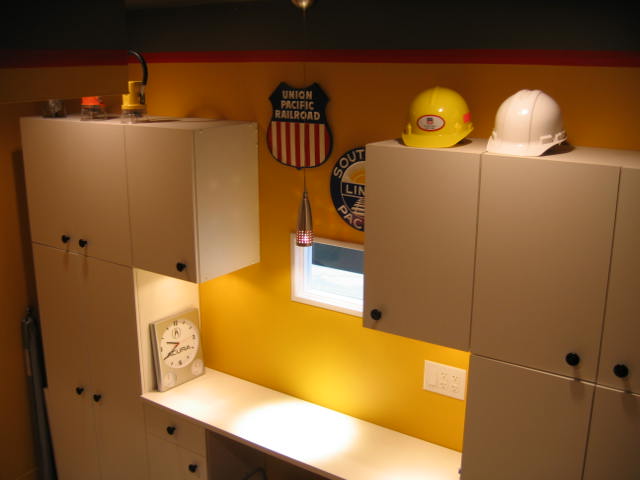 These next two shots show the dispatchers office. Yes, I do get plenty of comments on my choice of wall paint! ;-) (It's painted like the outside of a Union Pacific Locomotive.)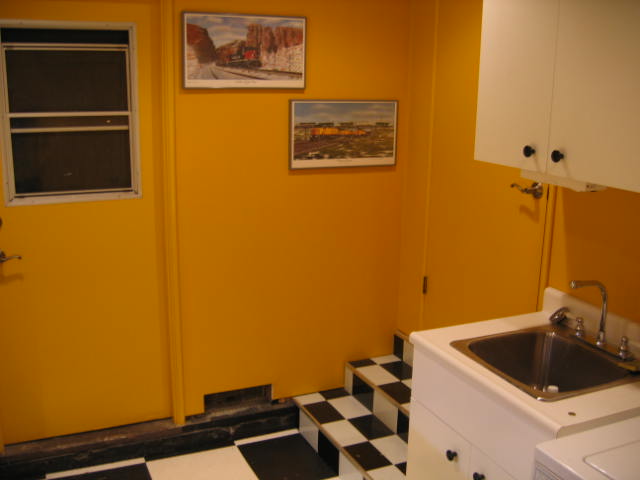 This shot just shows the back of the dispatchers office. To the left is a door to the back yard, to the right is the door to the residence.
Cascade Subdivision - N - Mark Lestico - page 1 - Main Article