Cascade Subdivision - N - Mark Lestico - page 6
From LdsigWiki
Op-Session Photos from 10 October 2009
At our last session I had a chance to grab a camera during a lull in my duties at the Staging Yards and snapped a few photos so you could see what our Op-Sessions look like on the Cascade Sub. Operators at this session were: Bob Owens, Austin White, Otto Kroutil (Modeling Cajon Pass in N-Scale), Ron Sipkovich (also Modeling Cajon Pass in N-Scale), Craig Martyn (Owner of BLMA Models), Wayne Lawson and myself. Bob & Austin performed Dispatching Duties and Wayne & I handled the Yards. We moved six locals, two Amtraks, returned the Klamath Falls Helpers light power to Eugene, ran the Tunnel Fire Prevention extra up out of Oakridge and 14 Through Freights in four and a half hours. This was all done with a lot of practice and coordination among myself and the crew.
Enjoy the photos!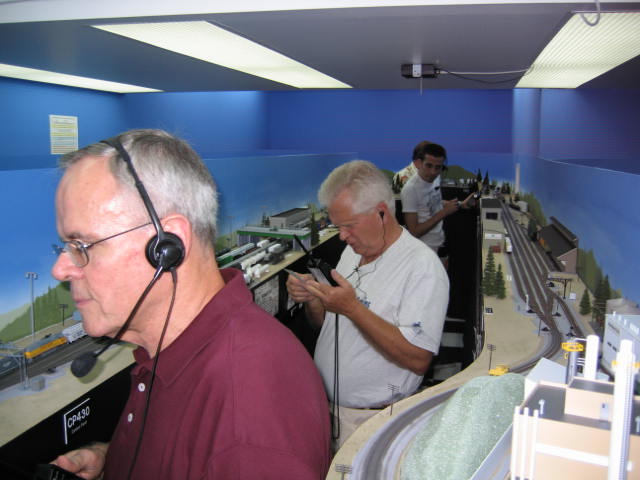 Ron is handling the Klamath Falls Local Job in the foreground while Bob stops at the Amtrak Station with #11 to pick up passengers. He's reading his train orders to see where he needs to get clearance to next, which will be Oakridge. Craig is working the Springfield Local and works to clear the Main as Otto is on his way through town with a Southbound Manifest Freight. Lots of activity and concentration going on here!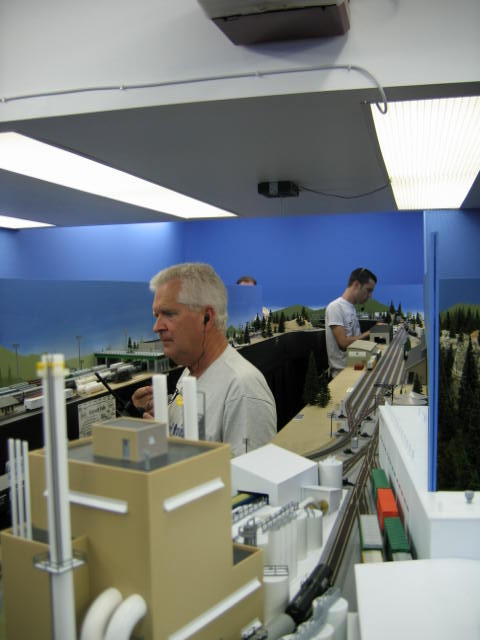 Looking over the Weyerhaeuser Paperboard Plant in Springfield. We see Bob pulling his Amtrak #11 out of the Klamath Falls Station out onto the Main after getting his Track Warrant from Austin working in the Dispatch Office. Craig is still working the Springfield Local on the North End of town.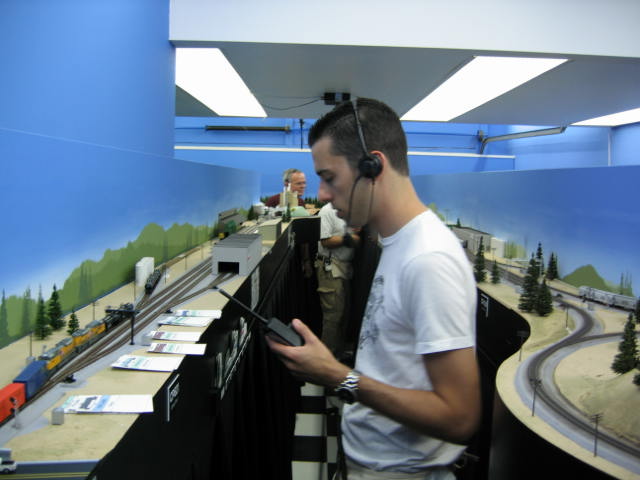 Craig switches the new American Asphalt transfer facility in North Springfield, across the tracks from Gunderson Car Repair, with a brand new set of SD70ACe's. (American Asphalt is located on the old site where Tilbury Cement used to be before they went out of business.) Ron is in the background waiting for Amtrak 14 to leave Klamath Falls.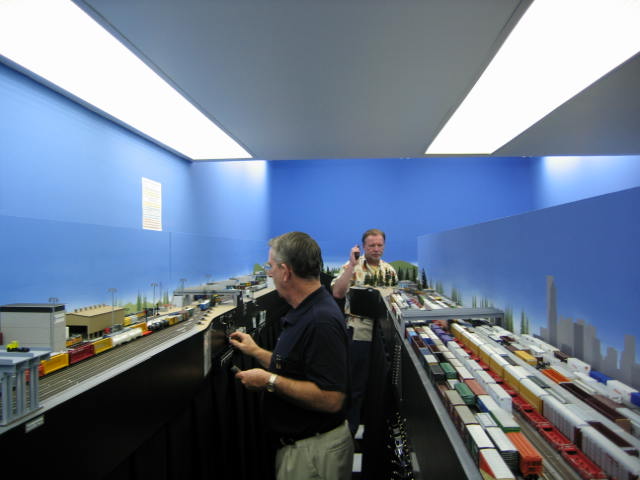 Wayne works on assembling the next local scheduled to leave Eugene Yard while Otto is in the background getting clearance from Austin to leave Roseville Yard with a Portland bound Piggyback "Z" Train.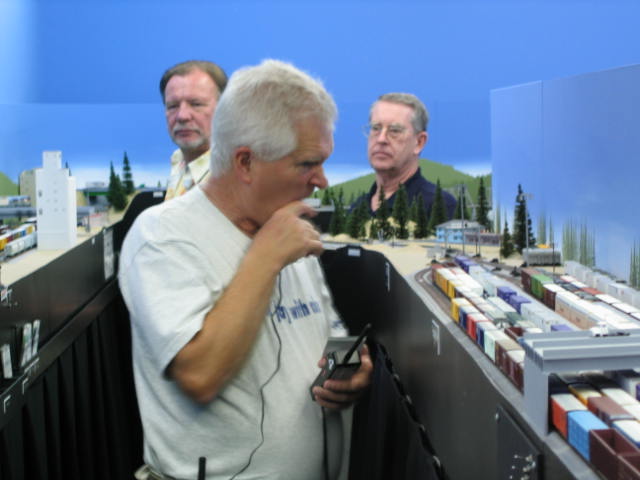 Bob keyes the mic button on his earbud cord letting Austin know that he has arrived in Roseville Yard with his stack train. Thus clearing the blocks behind him for other traffic. Otto rolls through Downtown / Judkins while Wayne checks out all the action.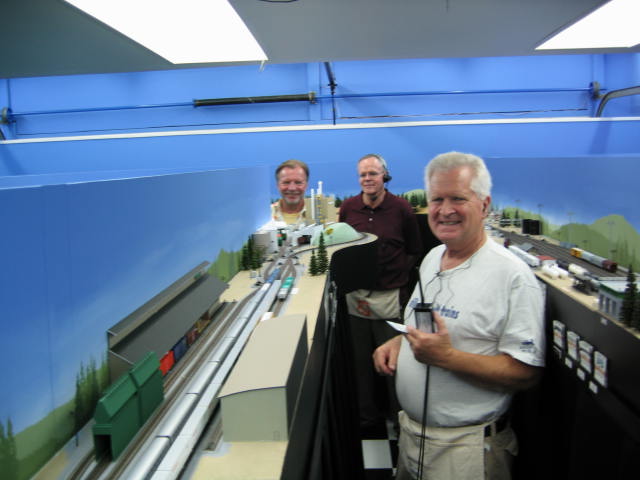 At the end of a long session these guys look pretty happy! (Or they know that I've ordered pizza and they're really hungry.) Otto's running the Amtrak Coast Starlight #14 through Springfield while Bob is in the siding there with a Portland bound RoadRailer unit train. Ron is enjoying the view during this meet arranged by Austin in the Dispatch Office.
Layout Progress Update
The Weyerhaeuser Plant is pretty much completed & in need of paint. Another hundred or so trees have been planted across the layout which has given the town scenes more personality. I have painted all of the track between Yosemite Street in Roseville to the entrance into South Springfield in preparation for ballasting all of this track. After this I will begin with the final ground covering and scenery work in Oakridge. This will be the first town to receive this treatment as the industrial density of this area is very low. This will make it the easiest area to complete this task. To sum it all up so far; progress continues one bite at a time. To use a 'cliche... Rome wasn't built in a day....
Thanks for visiting again!
Mark
Cascade Subdivision - N - Mark Lestico - page 6 - Op Session Photos 10 October 2009